GET MORE FROM YOUR REVIEWS
• Review Gathering • Review Tracking • Review Management • Website Review Widget
Request Reviews via SMS & Email
We make it easy for your customers to write reviews on Google, Facebook, Yelp and many others. We streamline the process for the customer so all they have to do is click a link, write a review.
Track Pending Requests and Published Reviews
The app makes it easy to see where your customers are in the review request process and it tracks your published reviews from around the web.
4 or 5 Star Reviews pushed to your Website
Use the Review Manager® app in conjunction with your website to boost your online reputation by only publishing your best reviews to your website. Negative reviews will not show.
WHAT OUR CLIENTS SAY ABOUT OUR WORK
Very professional and knowledgeable.
Digital Marketing - Mary Johnson
Cody and Matt are great at what they do. If you need a company to help you with you local SEO these guys are the best.
Internet Marketing - David Rogers
Thanks for the tips, have a wonderful day
Google Maps Marketing - Jenni Allen
If you're a business owner, you know how important SEO is to being found online. If you aren't showing up near the top, you are missing out on business!! If that is something you need help with, don't wait to contact Mr. Marketing. Their team is incredibly knowledgeable about Google algorithms and rankings and will help you know how they can help you improve your ranking!
Had a great experience with this company, Cody in particular. Great and comfortable to talk to and very knowledgeable. Innovative product and service. Definitely recommend.
SEO Services - Abid Hussain
Mr. Marketing SEO is recommended as personal experience was so good.
Digital Marketing - Adam Fabian
Excellent platform!!
Internet Marketing - Al Simmons
Cody has been outstanding to work with! He has certainly provided us tools to offer excellent customer service and keep constant contact with our clients. Your business would certainly benefit from his services!!
Google Maps Marketing - Jamie edens
Matt is great. He took time to answer my questions and real gave me a ROI. Finally someone who can deliver. GREAT JOB MATT!!!
Cody is the man and Mr. Marketing has great products to help a business of any size! Highly recommend.
SEO Services - Banner Adams
Amazing company!!
Digital Marketing - Storm Guard
Excellent customer service and super good people. Matt has built a team of pros.
Internet Marketing - David Robinson
I have been hesitant to invest money in internet marketing for my first 10 years in business. However, since the coronavirus struck in the early spring, the landscape has drastically changed. I decided to engage Mr. Marketing to increase my web presence during this summer. In a little over 3 months time, my sales have increased over 200k entirely due to clients finding me online. I highly recommend Matt and Carrie if you are looking to grow your company!
FEATURES COMPARISON CHART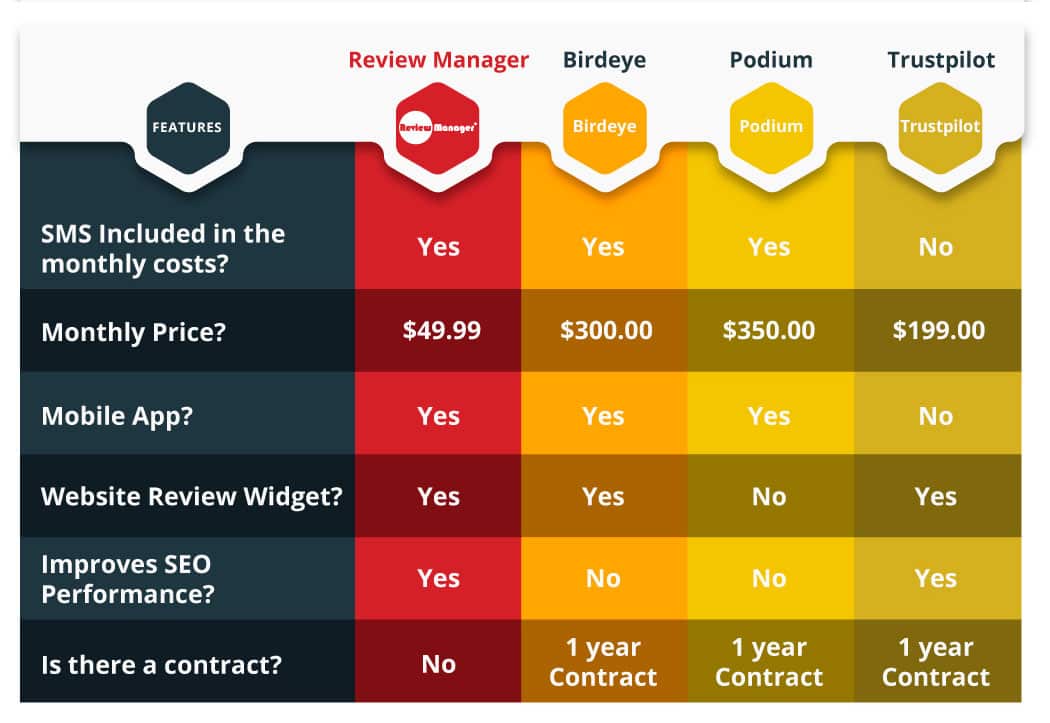 FREQUENTLY ASKED QUESTIONS
(FAQS)
It's hard to overstate how important it is for your business to have positive reviews online, especially because access to the internet is more prevalent than ever before. Reviews have changed the way that consumers purchase products. More than half of online shoppers consider online reviews a deciding factor when searching for a local businesses' products or services. Reviews not only validate your businesses' trustworthiness; they can increase your company's visibility online, help reaffirm positive brand awareness, and give you an open line of communication with customers. Perhaps most importantly, online reviews have been shown to have a direct impact on sales. If you do not have a plan in place to gather constructive reviews online, you are missing out on a huge opportunity to take your business to a new level of exposure in your niche and success in your industry.
Simply put, Mr. Marketing's Review Manager gives you more features at a better price than our competition. Unlike global brands like Yext that apply a "one size fits all" strategy, our reputation management app is customized to fit your business with features that other review management platforms do not offer. When you use Review Manager, you have the ability to:
Track pending review requests
Request reviews via SMS and Email with no extra fees
Publish 4 and 5-star reviews directly to your website
Utilize our Schema widget to publish reviews
Customize the app's interface with several design options
Track existing reviews
We recommend calling our office for a full rundown of how Review Manager works. We believe in helping clients the right way. When you call our office, you will speak to a real person that will work with you to develop real review management strategies for your business: no robots and no "cookie-cutter" solutions.
We know that it can be hard to carve out time to request reviews from clients. We also know that taking the time to create a streamlined way of doing so is difficult for busy professionals. That's where Mr. Marketing's Review Manager comes in. Our app requests reviews from your clients via SMS and Email, using an automated system that makes it easy for your customers to leave reviews; all they have to do is click a link and write a review! Our robust app syncs with all of the most popular review platforms like Google, Facebook, Yelp, and many others. Need to focus on a specific platform? We've got you covered – Mr. Marketing's Review Manager app will help you build and manage new reviews, right from your desktop or smart device.