Are You A Small
Business Owner?
If so, you might not realize that you have a significant SEO advantage over large e-commerce websites and global brands, and it's 100% free.
If you're looking for an easy, effective way to drive more traffic to your website, there's no need to sell your kidneys for paid exposure. All you need is an internet connection and a little guidance on setting up a Google My Business account – a free, essential marketing tool that millions of small business owners use.
With Mr. Marketing's comprehensive guide to Google My Business, you can too.
In this guide, you will learn how to create your GMB profile, optimize it, and use GMB to attract local customers to your business. Before you know it, you will be well on your way to dominating your market without having to take out a loan for digital advertising.
Chapter 1 – The Basics of Google My Business
Google My Business is a little bit like a 21st-century version of a phonebook. It is a separate listing created by Google that displays a local businesses' hours, address, phone number, website, and other essential information.
When a user searches for a type of business in their local area – say "SEO services in Charleston" – Google displays a list of websites with the highest SEO value for that keyword phrase.
At the top of that page, users also see a list of local rankings. These results are all comprised of local businesses that have Google My Business accounts. This list is where you want your business to be once you have finished reading this guide. When you have a GMB account, anyone can find your business using keywords or locations in a search that are relevant to your business.
Google also uses location info from users' devices (like their smartphones or tablets) to help them find local businesses. Google uses this data when users search for anything that includes the phrase "near me," such as "SEO agencies near me." Queries of this nature are very popular, especially with users who use their mobile devices to find local businesses like yours.
With Google My Business, small business owners like yourself can boost their Google rankings and reel in local customers without having to stress about competitive keyword search terms. Going this route will save you money, and hopefully prevent an SEO-induced aneurism down the line.
If you're ready to get started, go for it! Be sure that you have already logged into the Google account you want to use to manage your GMB listing. Once you're logged in, head on over to https://www.google.com/business/ to begin. Don't forget to revisit this guide once you're all set up – we have some fantastic tips and tricks here that you don't want to miss!
Chapter 2 – How GMB Helps Your Business Succeed
It's hard to overstate the value of Google My Business. This is especially true for brick-and-mortar businesses, because a GMB listing gives you the ability to drive customers to your storefront with easy-to-read directions via Google Maps.
Because most people want immediate results when searching for a product or service, Google places local listings before standard search results. This means that, at the least, consumers will see your business before "big box" alternatives. At best, they won't even bother to scroll down to the main search results. Why? Because they have already found what they're looking for: your business. With a GMB listing, you can also share recent blog posts, product photos, and new business information with customers. Doing this is a terrific way to give potential customers the information they need to choose your business over the competition.
The bottom line is this: small businesses with an attractive GMB listing that has good reviews will get more clicks from shoppers using Google for a local search. These same shoppers are more likely to hop in the car and head to your business location the same day, since they want a solution to their problem ASAP.
When you consider that 5% of ALL Google My Business views result in a website click, phone call, or request for directions, the benefits of having a GMB listing are clear.
Put the shoe on the other foot and search Google for your business, as if you were a customer. Take notes about what you see – how does your listing look compared to competitors? Do you have photos? Are you managing your Google reviews? How many do you have? Are you answering common questions from customers? Be honest with yourself and improve on areas that need work. The goal here is to inform customers about your business before they visit your website or storefront.
Chapter 3 – Time to Get Started! Create Your Profile & Claim Your Listing
Before you get rockin' and rollin' on Google My Business, you need to claim your listing. The easiest way to do this is to open a browser and head over to the GMB login page. Once you land on the page, look in the top right corner and click "sign-in." Follow the prompts from there, making sure that you choose the option to create a business account.
Once you're done doing that, it's time to claim your listing. Your listing may already be online, even if you haven't created a GMB account before. Here's how to find out:
Go to google.com
Type one of the following combinations into the search field:

Your business address
Your business phone number
Your business name and the city where it's located
If you find an unclaimed listing for your business, you want to select "Own this business?" to continue. If you don't see an unclaimed listing, you will need to create a new one for your company.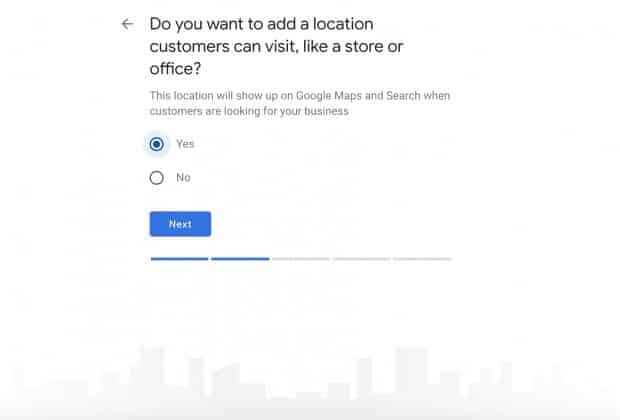 Some business owners discover that their listing is already claimed in rare instances. If you find yourself in this situation, there's no need to lawyer up just yet – Google has a feature that allows you to claim ownership of your listing if someone else uses it.
Next, it's time to set up your profile.
Make sure you head back to Google My Business, where you will add essential information like your profile like your business name, address, and phone number. Be sure to select an accurate Business Category for your company – this is an important ranking factor in SEO. If you're on the fence about which category to choose, consult with your SEO company in Charleston for advice. No question is a bad question!
If your business does not have a storefront address but does deliver to customers, you should hide your address and add a service or delivery area instead. When you're done creating your profile, it's time to get your business verified. Verifying your business with Google is essential and grants you access to the full range of features and tools found in GMB.
There are a few different ways to verify ownership of your business:
Postcard (can take up to two weeks to arrive)
Email
Phone
Instant Verification (this option is not available for every business owner)
Once you select your option, you will receive a verification code. When you do, log into your GMB account and click the "Verify" option.
Now that your business is verified, give yourself a pat on the back and get ready to optimize your profile. Before you do, double-check that all your contact information is correct. Before you move on, take a few moments to add features like payment types, parking options, and other information that your customers should know.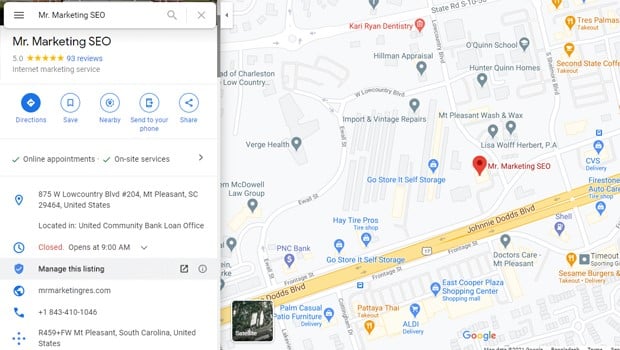 Chapter 4 – Show Your Best Side with Photos in Google My Business.
You can think of optimizing your GMB profile like going out on a first date – you can talk the best game in the world, but if you're dressed like a bum, you probably aren't getting a call back. Having accurate, helpful information displayed for customers to see is great, but photos are essential in attracting interest in your brand. In today's market, customers want to have an experience with your business before they walk through the front door.
Luckily, adding photos to your GMB profile is easy. Navigate to the Photos section of GMB, where you can begin uploading your HD pictures.
Currently, there are three photo categories you should pay extra attention to in Google My Business:
Cover Photo: They say never judge a book by its cover, but let's be honest: we all do it. People tend to get attached to their first impression about a business, and it's hard to change their opinion. Your cover photo is essentially your "first impression" picture. It needs to be great. It needs to be HD. It needs to capture the essence of your business and your brand's personality. Make this one count!
Profile Photo: You can think of your profile photo as the "avatar" for your business. This is a great spot to upload your company's logo because it shows up whenever you create a post or respond to a customer review on Google.
Additional Photos: This section gives you the chance to expand on your business and what it does. Try to use photos that are relevant to the products or services that your clients are looking for. The more inviting the images, the better chance you have of driving traffic to your storefront and website. As your business grows and you add more products for sale, update your photo roll accordingly. You don't want a bunch of outdated photos taking up room. Customers want to see the latest and greatest offerings available.
If you don't have a storefront, you can still add HD images of your office space, your staff, the products or services you're selling, your business logos, or screenshots of your website.
Confused about optimal camera settings, lighting, and staging strategy? Consider hiring a professional photographer for a quick photoshoot. To save some cash, reach out to local universities and ask if there are any photographers who need content for an internship. Going with a pro lets your clients know that you're serious about giving them a superior experience. It may cost some money upfront, but the payoff down the line is often worth the expense.
Chapter 5 – Customer Reviews and SEO.
Would you spend your hard-earned money with a business that has poor reviews on Google? If you're like most consumers in the U.S, the answer is "no." Having positive reviews on your GMB account is important because they help customers decide whether they want to spend money with your business. A recent study found that 88% of customers trust online reviews as much as a personal recommendation.
Perhaps more importantly, Google reviews help boost your search engine optimization (SEO) rankings. While many factors affect your SEO rankings, great customer reviews help search engines learn that you are a trustworthy business owner with expertise in your market. As a result, your local Google rankings improve over time.
This means that Google review management should be a high priory for you.
Getting a steady stream of positive reviews for your business isn't rocket science – you have got to find a way to encourage customers to leave you a review. If you're satisfying your customers and providing them with an exceptional experience, this shouldn't be too difficult.
Some business owners have comment cards or Google review stickers in-store, signaling that reviews are welcome. Others provide links on their websites or send follow-up emails after a customer makes a purchase. More recently, savvy business owners are using comprehensive reputation management apps to gather, track, and push positive reviews to their websites.
The big takeaway here is that you need good reviews on GMB, and you need to develop a way to elicit them from your customers. Don't be passive – let your customers know that it would be immensely helpful if they could write a quick review. If a happy customer knows they can help make a positive impact, they'll probably take 5 minutes to do so.
Once your reviews start pouring in, be sure to respond to them, even if the review is negative. Google's algorithm works by recommending the most credible businesses to their customers. Few indicators build credibility like a business going out of its way to respond to complaints publicly. It might be painful, but you know what they say – "no pain, no gain!"
If managing your reviews on Google makes you want to smash your head through a wall, there are GMB business coaches who can help. These specialists help small business owners get the most out of their reviews on Google My Business and other platforms.
Chapter 6 – Creating Consistent Content with Google Posts.
The most successful businesses on GMB are consistently posting content for customers to see. A little effort can go a long way in showing customers that you have an active, strong presence online.
Many business owners are using Google Posts, a free tool for verified users that Google created in 2017. Google Posts lets you amplify your brand while keeping your online presence fresh. With Google Posts, you can promote new products or services, business announcements, events you're hosting or are interested in, and more.
Posts on Google are deleted after seven days, so it's a great way to share time-sensitive info with your customers. Here's how to get started:
Decide on a Goal – what is the purpose of your post? Do you want to drive more traffic to your website? Get form submissions? Create brand awareness? Attract eyes to an event? Once you have a goal, it's time to log in.
Log In – Head over to your GMB account and click or tap the "shop" button in your account's list view. From there, click "Create Post" to get started.
Choose Your Call to Action – Google will have a preset list of CTAs to choose from. Select the one that is most relevant to your goal.
Upload an Engaging Photo – Choose an HD photo that you think your customers will love. Make sure it's relevant to the goal that you set yourself. The minimum resolution for your photo should be 720px by 720px, in JPG or PNG file format.
Choose Your Event – Google gives you several different post types to choose from, like "What's New," "Events," "Offers," and "Products." Before you decide, take a moment to read the suggestions from Google on which event type to choose.
Write an Original Description – As of this writing, Google gives you 1,500 characters to use for your description. Because attention spans in 2021 are shorter than Danny DeVito, try to keep yours around 300 characters. Your description should be compelling and to the point.
Set Your Event Details (if needed) – If your Google post is promoting an upcoming event, select "Make this post an event." Here, you can create a title and set beginning and end times. Try to keep your title short and succinct.
Publish – After you have previewed your post and double-checked that there are no errors, click "publish." Now you're off to the races!
To fully leverage Google Posts, we want to reiterate how important it is to add HD images to your GMB account and alongside your posts. A recent study shows that businesses with more than 100 photos receive 960% more search views and 713% more discovery searches than the average GMB listing. It might take you a while to post more than 100 photos on your GMB account, but as these stats show, it pays to put on your "photographer hat."
Chapter 7 – Google Ads, PPC, and Google My Business.
Search engines like Google offer a few different ways for businesses to reach a wider audience through paid advertising opportunities like search engine marketing (SEM) and Pay Per Click (PPC) advertising. With the two combined on GMB, business owners can drive some serious business to their storefront or website.
Google also offers a special ad program for GMB. These ads populate above organic GMB results and just below Google Maps results. With this ad program, you can set a custom advertising budget, create your ads, and let Google's algorithm technology do the rest while you focus on the day-to-day needs of your business and its customers.
When paired with a comprehensive digital marketing plan, PPC advertising and Google Ads can be very effective for local business owners. You can even create a local pack ad by setting up a location extension in your Google Ads campaign.
To avoid going down a deep rabbit hole, we won't delve too much into Google Ads and the various ways you can use PPC and strategies like Programmatic Ads to boost your business. Once you're set up on GMB, it is definitely worth your time to learn more about these advertising opportunities.
Chapter 8 – Extra Tools to Make You Stand Out on GMB.
Doing the "bare minimum" on Google My Business isn't going to do you any favors in a competitive market. To take your profile from average to excellent, GMB offers you plenty of extra tools that can help you set yourself apart from competition. With features like videos, events, and more, you can give customers even more insight into your business and increase your chances of driving traffic to your website or storefront.
Here are some GMB extras that you will want to use:
Videos on GMB
If a picture is worth a thousand words, an HD video with a pinch of production quality and a heaping dose of personality is worth ten thousand. Smart devices are so advanced these days that you can use a newer smartphone to get the job done.
To publish a video on GMB, your content must be:
Less than 30 seconds long
High-Resolution
Under 100MB
The right kind of video can drive engagement and generate a lot of interest in your business. Try giving prospective customers a peak behind the scenes with a tour of your office or a profile on an employee. Take a couple of minutes, write down some bullet points, and record a short elevator pitch to help customers understand what you're selling. You can even post testimonials from your most loyal fans.
Videos on GMB are optional, but given how popular short, high-quality video content is online, it can be a great way to distinguish yourself from competitors, especially if they're not posting video content themselves.
Events on GMB
If your business hosts concerts, organizes festivals, hires guest speakers, or uses online giveaways, this feature is a great way to promote your upcoming events. Your events will populate every time someone clicks on your GMB profile.
At the end of the day, it's free advertising and only takes a couple of minutes to do, so it's a win-win for you!
Schedule Appointments on GMB
If you own a restaurant, hotel, medical practice, law firm, Airbnb, or any other kind of business that takes appointments, this feature is a must-have. With Appointments on Google My Business, you can place a "Book Now" button on your profile, which links to contact info on your website, your appointment-scheduling software, or your reservations system. Using this feature is convenient for customers and lets them save time by jumping right into your booking process.
If you're always on the go, download the Google My Business app on your smart device. With the GMB app, you can update your business information, upload new posts, and manage your account from your mobile phone. The GMB app is fantastic as it sends notifications whenever someone leaves you a review, sends you a message or saves your listing. When positive reviews start pouring in, you can now publish them directly to your website with this new reputation management system which syncs with your GMB profile.
Chapter 9 – Monitor Your GMB Account and Track Your Performance.
Now that your Google My Business account is set up, you may be tempted to "set it and forget it" until it's time to change your contact info or business address. However, it's important that you monitor your account regularly to weed out any misinformation or spam.
Why should you do this? The reason is that every GMB profile has a link saying "suggest an edit." Anybody can suggest an edit, even folks who are more intent on trolling your customers than helping them.
Keeping an eye out for spam suggestions is a good idea, but more important is checking to make sure your customers aren't suggesting legitimate edits to your profile. Equally (if not more) important is to check for any new Google reviews for your business. Remember, try to respond to all reviews, even if they're not flattering.
If somebody is trying to tamper with your listing, you should report the activity to Google. Be sure to bookmark this page so you can refer back to it quickly.
Insights #5: Phone Calls to Your Business
When is your business getting the most phone traffic? When are your peak business hours? If you don't yet know the answers to those questions, phone call insights are very valuable.
Insights #2: How Customers Search for Your Business
In the phone calls section of GMB insights, you can see when calls are coming in by the day of the week and the time of the day. This information will give you a better sense of when prospective customers are looking at your local GMB listing or searching for a business in the same category as yours.
When you know which days are the busiest for you in terms of phone calls, you can set your Google or Programmatic ads to display during peak call hours for better results. You can also make sure someone is covering phones during your busiest times.
Measure Your Performance with Google My Business
Insights on Google My Business give you a simplified, easy-to-understand view of the analytics associated with your new local business listing.
GMB insights, which currently hold three months of analytics, give you a chance to view your businesses' growth by week, month, and quarter.
Here are a few measurable insights you should keep an eye on:
How customers are searching for your business
Search terms and phrases customers are using to find your business
Actions that customers are taking on your GMB profile
Requests for directions to your storefront
Phone calls made to your business
Photos of your business, uploaded by customers
Now that you know which insights to monitor, let's take a deeper dive into each category.
Insights #1: Top Local Search Queries Used to Find Your Business
These analytics give you an overview of customers' top local search terms used to locate your business. When viewing these insights, it's a good idea to pull search data from the Search Console option so you can get a broader view of your search performance.
To make the best digital marketing decisions for your business, you need to know where your customers are searching for your business.
With Google My Business, there are three categories you can use to help form your marketing strategy:
Direct – These impressions come from users who probably already know about your business and use your businesses' name or address to find your GMB listing.
Discovery – These impressions come from customers who use generic search terms like "SEO company in Charleston" or "digital marketing agency Charleston" to find your GMB listing. Discovery searches are also called "organic searches." If your business is found through discovery searches, chances are you're doing a good job of reaching new customers.
Branded – These search impressions let you know when a customer finds your GMB listing after searching for a brand or product similar to yours. For instance, if you own a small business that sells coffee, your listing may populate in local search results when a prospective customer searches for "Starbucks near me.
Insights #3: Customer Actions on Your GMB Listing
What actions do customers take once they click on your Google My Business listing? With Customer Actions insights, you can find out.
When a user clicks on your GMB listing, they can take one of four actions, which you can track:
Call you
Message you
Request directions
Visit your website
As you work hard to improve your Google My Business listing, these insights will help validate the effort you've put in. These analytics will also help you decide where to focus your marketing dollars. If you discover that most customers are using your GMB listing to access your website, for instance, it might be time to work with a local SEO consultant to take your digital marketing efforts to the next level
Insights #4: Requests for Directions
When a customer asks for directions to your business, information about that request will populate in your GMB insights.
Here, you will gain access to the customer's
You can use this valuable information for geo-specific ad targeting. For instance, if you realize that most direction requests come from a neighboring city, you can push targeted ads to that geographical region and reap the benefits.
Phone calls from GMB insights are only counted when a customer clicks the "call button" associated with your listing. To track every single phone call, you will need to invest in call tracking software. Call tracking software is great for learning more about where phone calls are coming from, so you can better target your SEO and digital advertising efforts to customers in neighborhoods near your business.
Insights #6: Photos
As mentioned earlier, the more photos you have of your business, the better. This section of GMB insights will show you exactly how many views you have on uploaded images. These analytics can help you decide what kind of photos to upload based on their popularity. If you get a lot of views on photos taken of your employees, build on that popularity. Compare your photos to those of your competitors – if you notice something working for them that isn't working for you, use their photo content as inspiration to optimize your photo strategy.
Chapter 10 – Boosting Your Digital Marketing with GMB and Beyond.
Getting familiar with GMB opens a whole new world of online effectiveness. It's free, easy to set up, and a significant first step in helping customers discover your local business.
However, creating and monitoring a GMB account is just a small part of a larger puzzle centered around SEO. For a truly effective digital marketing campaign, you will need a fully optimized website, targeted ads, social media marketing, and other strategies used in conjunction with Google My Business.
The good news? You don't have to go it alone when there are trusted local Charleston SEO agencies that specialize in cutting-edge digital marketing solutions for your small business.
With a little time and the right strategy, you will be well on your way to SEO supremacy in your market. We hope that you have found this FREE guide to GMB helpful! Now that you have the knowledge to get started, only one question remains: what will you do with it?